Wainfleet Trading Post
Regular price
$9,945.00 USD
Regular price
Sale price
$9,945.00 USD
Unit price
per
Sale
Sold out
+ $450 Shipping
Wood Cook Stove Kitchen Range Heartland Oval

WOO HOO - WHO IS READY TO LIVE OFF THE GRID ... ?
WHOA, WHOA, WHOA, there folks! Before we start talking about living off the grid I would like to take a moment and say a little something about truth in advertising!

I have to admit that me even mentioning "living off the grid" is probably intended to make it sound like you need this stove to survive ... that is not true. But your grandmother probably did and she probably never even heard about the "grid" or the "interweb" but I guarantee she enjoyed her life as much or even more than you and I - without a "grid".
Did she suffer? Hard to say. But I would be willing to bet she worked hard. And I would be will willing to bet she ate good food that she made. I would even bet she kept pretty warm and that she loved and cared for her husband and children in a home with a stove similar to this and made some memories that we will never be able to comprehend. And I bet she did not complain but was thankful for her wonderful life and family. Did she live off the grid? My first thought would say HELL YA SHE DID! But upon more thorough reflection Perhaps she just lived! That was just the way things were done in those days.

Now about this stove ... Is it an outdated piece of historical memorabilia to be viewed with reverence and awe for the place it holds in our past? HARDLY or you would not be viewing this listing. This is a sophisticated appliance engineered by men with vision and driven by the pride that fueled the industrial revolution. It can do most of the things that happen in any modern-day kitchen that will require dozens of gadgets and electrical appliances to accomplish. it can provide a steady supply of hot water, it is a heater, it has infinite heat control from proofing your bread dough to boiling water, simmering a soup broth, warming frozen kids, husbands & neighbors as well as all of their mittens scarves and boots. It can keep a runt piglet warm until he can rejoin his brothers, and the cat wouldn't sleep anywhere else. ( like my dad who slept beside the wood stove throughout the entire winter to keep us warm.

AND OH YA ! it was not all roses and fresh-baked rolls! We carried a lot of wood and so will you) I did not appreciate it at the time but I was being taught how to live - and yes as an old man I still carry wood to keep my kitchen range fired ... the only difference now is that I smile while I do it and wish I could still carry some wood in for my own old man LOL.
Live off the grid Live on the grid Live Half on the Grid and Half off the grid ... BUT take the time to smell the roses and the fresh-baked rolls, and be sure you huff a little wood smoke too along the way so like your grandma you too can say that you REALLY LIVED!

Here is your chance to own a super Heartland oval. My Son and I rebuild wood stoves. The Findlay Oval / Elmira Oval / Heartland Oval / Elmira Sweetheart is the Cadillac of wood ranges and this one has all the options including copper water tank and side tap and top warmer Production was permanently discontinued in 2018 so not avail new and longer This Model had a retail value of over $12,000 plus taxes and delivery.

The OVAL is a famous wood cookstove/kitchen range/kitchen cook stove and was originally manufactured by Findlay in Carleton place Ontario it is still the industry standard for wood cookstoves and is a beloved favorite. The rights were later sold to Elmira stove works who made them for many years and then ultimately sold to Heartland Oval who still carries each part for these historic beauties
Comes with an Operation/installation manual and will make a perfect addition to your home. Nothing is like cooking on a wood-fired kitchen cookstove. Makes the meal so much better as grandma did. Great heat source and most of all very beautiful family heritage stove



Production of these legendary stoves ended in 2018 and they continue to become increasingly harder to find in this kind of condition.
Specs:
Height: to cooktop 32"
Overall height: 62" to the top of the bread warmer
Width: 48" 
Depth 30"
Warms up to 1,500 square feet
Solid cast-iron cooking surface
1.7 cubic foot oven
Upper warming cabinet
Top or front fuel loading
Large firebox for improved efficiency (less chopping and stoking)
EPA Exempt


Shipping & Delivery
Professional palleting, delivery, import fees, border fees, and brokerage fees, are included in the shipping cost. 
Orders over $2500.00, require an SS# or a company EIN# for USA Customs. 

Helpful quick links: 

Shipping Cost is $450.00 Detailed Shipping Costs
Customs  U.S.A. CUSTOMS REQUIREMENTS 

More stove models WOOD STOVES 
Learn more About Fisher wood stoves 

Learn more about what we do About Us 
Manual only Heartland Oval Manual
THE FINE PRINT: 
As regulations vary by region it is the buyer's responsibility to ensure that this product is suitable to your requirements and that installation meets local regulations and safety standards. 

These stoves are approximately 40 yrs old so they do show typical signs of minor wear and usage. We do our very best to offer you the highest standard of product however minor cosmetic imperfections are not totally avoidable on a used appliance of this age and nature. As these stoves were manufactured by several distributors there may be minor cosmetic variations between stoves of the same model. 
Share
View full details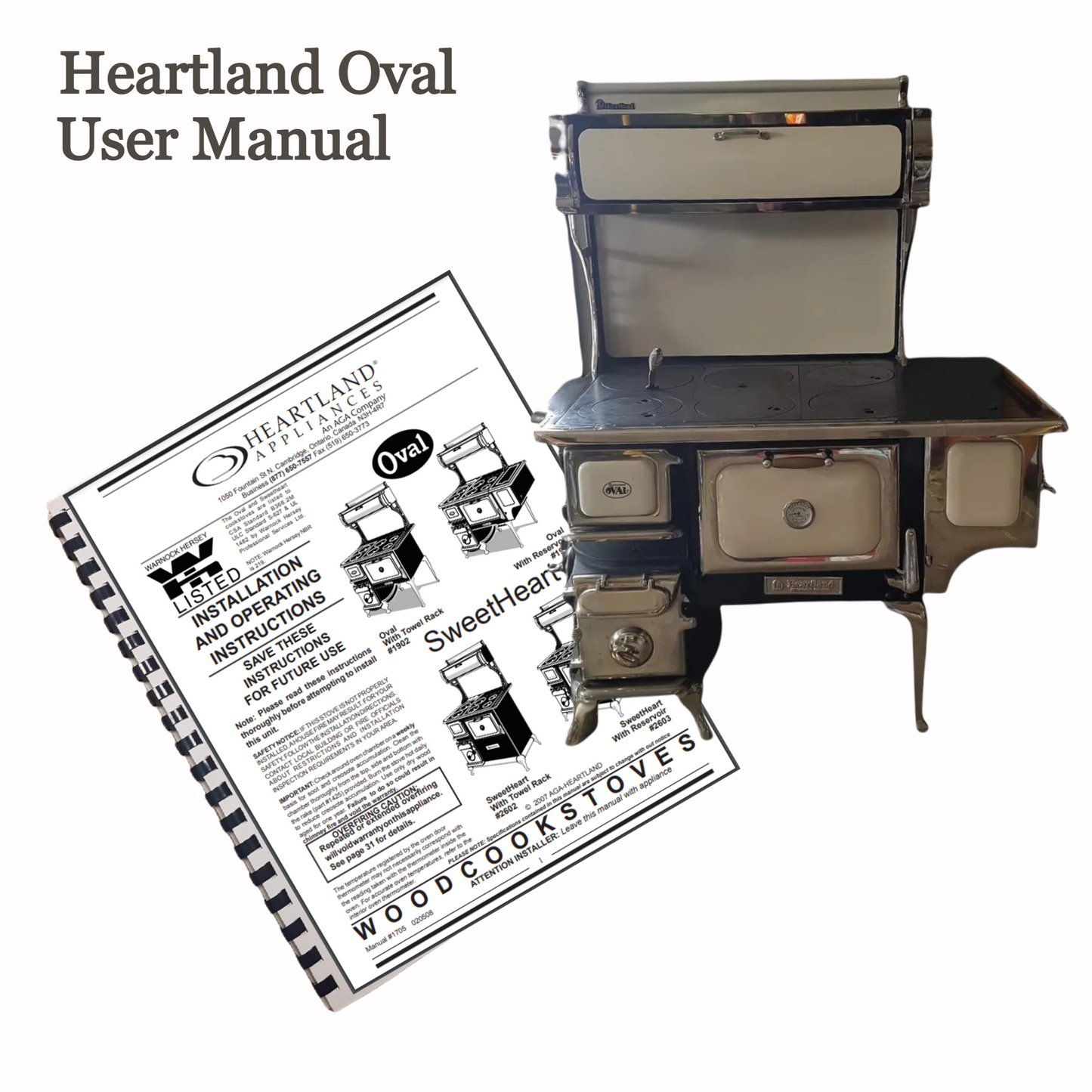 Quality piece, exceeded my expectations,...
Quality piece, exceeded my expectations, very friendly and informative seller and received piece within the week!